MarsNews.com
::
NewsWire
:: Future Missions
November 10, 2014
China unveils its Mars rover after India's successful 'Mangalyaan'
Time of India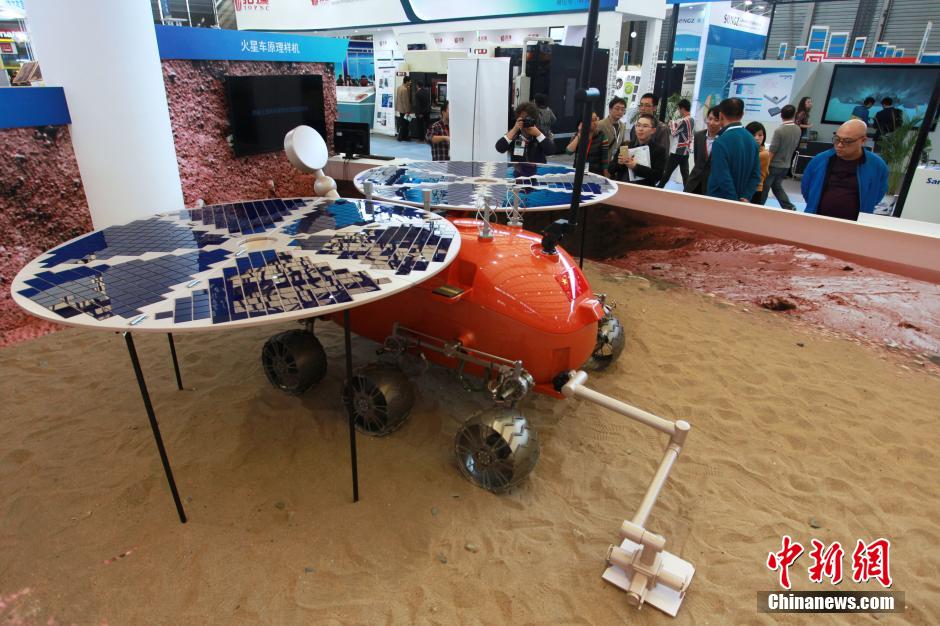 Seeking to catch up with India's Mangalyaan Mission, China has unveiled its Mars rover being developed to scurry the Red Planet's surface for signs of water and life and plans to test it in the rugged terrain of Tibet. China Aerospace Science and Technology Corporation (CASC) has displayed the machine and the technological hardware set-up at an air show. Photos of the rover's prototype, to be displayed at the annual air show at Zhuai being attended by defence attaches of all countries including India, were carried by the state-run Xinhua news agency.
August 18, 2014
Explore Mars has devised a simple system capable of being delivered to the Martian surface to detect microorganisms living on or under the surface. ExoLance leverages a delivery system that was originally designed for military purposes. As each small, lightweight penetrator probe ("arrow") impacts the surface, it leaves behind a radio transmitter at the surface to communicate with an orbiter, and then kinetically burrows to emplace a life-detection experiment one to two meters below the surface. ExoLance combines the experiments of the 1970s Viking landers and the Curiosity rover with bunker-busting weapons technology.
August 1, 2014
All You Need to Know About the Mars 2020 Rover in One Infographic
Softpedia
NASA has finally settled on the seven instruments its Mars 2020 rover will be carrying when embarking on its journey to the Red Planet about six years from now. These instruments, which were chosen from a total of 58 proposed ones, are expected to help the Mars 2020 rover explore its target planet and gain a better understanding of its makeup. Thus, the instruments will work together to collect information concerning Mars' landscapes, mineralogy, and atmosphere, researchers with NASA explain.
July 31, 2014
Live now: Learn about the Mars 2020 rover
-
July 30, 2014
NASA May Put a Greenhouse on the Red Planet
Scientific American
At long last Earthlings may be on the verge of colonizing another planet—but those first Terran ambassadors will be plants, not humans. NASA is expected to announce within days whether they will attach a one-liter "greenhouse" to its next Mars rover to be launched in 2020. A similar greenhouse would take a voyage to the moon with any team that manages to land a robot there by 2015 to snag Google's Lunar X PRIZE. These experiments could illuminate whether human colonization of the moon or Mars could be possible. NASA's proposed Mars Plant Experiment, or MPX, aims to answer two questions: Can plants germinate and grow in Martian gravity? And can they thrive while being bombarded by cosmic rays? To find out, investigators would attach a small, clear cube filled with carbon dioxide to the rover's shoulder, says Heather Smith, a deputy principal investigator for MPX. Inside would be 250 seeds of the Arabidopsis plant, a fast-growing cousin of mustard chosen because it has been studied exhaustively by scientists. After the rover lands the seeds would be soaked with water; heaters and LEDs would regulate their temperature. Over the next 10 to 15 days, via sensors and cameras, the world could observe the first beings we know of to be born, live and die on another planet.
July 29, 2014
Field Tests in Mojave Desert Pave Way for Human Exploration of Small Bodies
Mars Institute
A team of researchers from the SETI Institute, the Mars Institute, NASA Ames Research Center, and the space robotics company Honeybee Robotics, has successfully completed a first series of field tests aimed at investigating how humans will explore and work on Near-Earth Asteroids (NEAs) and eventually the two moons of Mars, Phobos and Deimos. From 13 to 15 April 2013, field experiments were conducted at the U.S. Army's National Training Center (NTC) at Fort Irwin, California, to evaluate geotechnical methods and systems that will enable humans to be productive explorers in the low gravity environment of small rocky bodies. Sub-kilometer sized NEAs, Phobos, and Deimos are among destinations currently considered by NASA for future human missions into Deep Space.
July 16, 2014
Animation posted of proposed UAE Mars mission
UAE Gov
UAE to establish space agency and send the first Arab spaceship to Mars by 2021
Emirates News Agency
The U.A.E. has entered the space race with a project to send an unmanned probe to Mars by 2021 in the Arab world's first mission to another planet. A new U.A.E. Space Agency will be created to coordinate the U.A.E.'s growing space technology sector and to supervise the mission. The U.A.E. is one of only nine countries with space programmes to explore the Red Planet. The Mars probe's nine-month and more than 60 million kilometre journey will coincide with the 50th anniversary of the U.A.E.'s formation. "The U.A.E. Mars probe represents the Islamic world's entry into the era of space exploration. We will prove that we are capable of delivering new scientific contributions to humanity," U.A.E. President His Highness Sheikh Khalifa bin Zayed Al Nahyan said, and added, "The U.A.E.'s purpose is to build Emirati technical and intellectual capabilities in the fields of aerospace and space exploration and to enter the space industry and to make use of space technology in a way that enhances the country's development plans." Vice President and Prime Minister and Ruler of Dubai, His Highness Sheikh Mohammed bin Rashid Al Maktoum, said, "Despite all the tensions and the conflicts across the Middle East, we have proved today how positive a contribution the Arab people can make to humanity through great achievements, given the right circumstances and ingredients. Our region is a region of civilisation. Our destiny is, once again, to explore, to create, to build and to civilise. "We chose the epic challenge of reaching Mars because epic challenges inspire us and motivate us. The moment we stop taking on such challenges is the moment we stop moving forward," Sheikh Mohammed bin Rashid added.
June 24, 2014
Next stop - Mars: China aims to send rover to Red Planet within six years
South China Morning Post
China has ambitious plans to touch down on Mars by 2020, likely with a rover, and to collect its own samples from the red planet 10 years after that, a top aerospace scientist has revealed. China already sent a probe, the Jade Rabbit (or Yutu) to the moon last year. It is expanding its horizons this time. Ouyang Ziyuan, chief scientist of the country's lunar project, said the new Mars programme aimed to create space probes – an orbiter and rover – for Mars, according to the Beijing Times.
February 26, 2014
Full Committee Hearing - Mars Flyby 2021: The First Deep Space Mission for the Orion and Space Launch System?
House Committee on Science, Space, and Technology
The Science, Space, and Technology Committee will hold a hearing titled Mars Flyby 2021: The First Deep Space Mission for the Orion and SLS at 10:00 a.m. on Thursday, February 27th. This hearing will explore the need for a roadmap of missions to guide investments in NASA's human spaceflight programs, how a manned mission to flyby the planets Mars and Venus launching in 2021 might fit into a series of missions and how the Space Launch System (SLS) and Orion Multipurpose Crew Vehicle could contribute to that mission.
January 22, 2014
Large international interest in riding with NASA's next Mars Rover
Spaceflight
The next NASA rover to be sent to the surface of Mars has received twice the usual amount of proposals for carrying science and exploration technology instruments. The agency is reviewing a total of 58 submitted proposals, 17 of which came from international partners, ahead of a proposed mission in 2020. Announced at the end of 2012, the next NASA rover will be based on the Curiosity Rover that is currently exploring the surface of Mars.
December 22, 2013
Mars One - First Private Mars Mission in 2018
Indiegogo
The Mars One foundation will establish a permanent human settlement on Mars. This Indiegogo campaign will help us jumpstart the first major step in our project – a private Mars Lander and Satellite mission in 2018. Your participation will help fund the 2018 mission and above all, show our partners & sponsors that the world is ready for this to happen. Mars One gives you the opportunity to participate in this historic project. This can be your mission to Mars!
October 16, 2013
Spaceflight experts work on alternate vision for Mars trips
NBC News
While NASA works on a multibillion-dollar, decades-long space exploration plan that relies on monster rockets, an informal cadre of engineers is laying out a different vision that would take advantage of cheaper, smaller spacecraft that can fuel up at "truck stops" along the way. Right now, the alternate vision, known as the "Stairway to Mars," is little more than an engineering exercise. But the plan's proponents on the Space Development Steering Committee say their scenario for Mars missions in the 2030s may have a better chance of becoming a reality than NASA's scenario.
September 27, 2013
Cache and Not Carry: Next Mars Rover to Collect Samples for Return to Earth—Someday
Scientific American
Have rover, need payload. That's the state of things for NASA, which is planning to launch its next rover to Mars in 2020. The rover has ambitious goals, including searching for signs of habitability and life on the Red Planet, and collecting rock samples to be stored for future return to Earth. Now, NASA is asking scientists to propose instruments that will help the spacecraft accomplish its mission. The space agency released an "announcement of opportunity" on September 24 calling for proposals by December 23. Researchers who plan to put an instrument in the hat must file a heads-up about their plans, called a notice of intent, by October 15.
September 17, 2013
Snake robot on Mars?
SINTEF
The ESA wants its operations on other planets to have greater mobility and manoeuvrability. SINTEF researchers are looking into whether snake robots could be the answer. Researchers are busy working on a feasibility study assigned to them by the ESA. The ESA and the researchers believe that by combining a rover that can navigate over large distances with a snake robot that can crawl along the ground and can get into inaccessible places, so many more possibilities could be opened up.
---