MarsNews.com
::
NewsWire
:: Mars Society
December 17, 2014
How Mock Mars Mission Will Simulate Life on the Red Planet
ABC News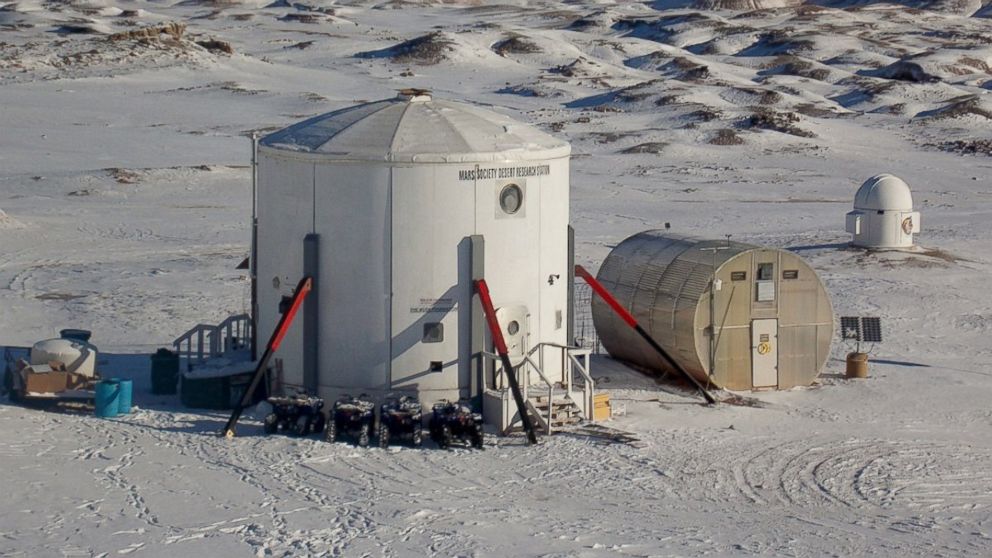 Martian explorers invaded the desert near the tiny town of Hanksville, Utah, early this morning and will remain there for the next two weeks to test technology that could be crucial on a long-distance mission. The four-member crew is part of an ongoing mission at Utah's Mars Desert Research Station to study what life will be like for earthlings who make extraterrestrial visits to the Red Planet. And for the first time, they will be testing 3-D printed medical devices. Dr. Julielynn Y. Wong, a preventive medicine physician who is the director of the Center for Innovative Technologies and Public Health, is leading this -- the 145th simulation at the station -- to test out medical technologies in space.
November 6, 2014
Will Interstellar inspire a new space race?
The Guardian
Stanley Kubrick was right about most things but when it came to 2001: A Space Odyssey, he got it hopelessly wrong. We're now 13 years on from that particular date, so where's our future? Instead of Pan Am flights to the moon we've got the faltering efforts of Virgin Galactic, which suffered another setback with the crash of its test plane last week. Instead of elegant space stations resembling modernist furniture showrooms, we have got the cramped tin cans of the International Space Station. And forget survey missions to Jupiter, Nasa doesn't even have a space shuttle any more. As it is, we are not even on track for the dystopian future of Blade Runner, unless we can knock together some off-world colonies in the next five years. Charlton Heston's Soylent Green is definitely still on, however, being set in 2022 (spoiler alert: we end up having to eat each other). From a space enthusiast's point of view, there is nothing more depressing than the fact that 2001 does not look particularly dated. If you had told those 1960s star children we would be no further out of Earth's orbit nearly half a century later you'd have been laughed out of the cinema, and many of those people, Americans in particular, have never forgiven their governments for not fulfilling their promises. Political and economic pressures and conspicuous accidents, such as the Challenger and Columbia shuttle disasters, have clipped NASA's wings considerably, and the multitude of Earthbound problems have put interplanetary exploration on the back burner. But in terms of a big, public plea for rebooting space travel, Interstellar is the answer to space camp's prayers.
September 11, 2014
Emily Calandrelli Shows Off Coolest Aspects Of Space In New FOX Series For Teens
Women You Should Know
Xploration Outer Space from Steve Rotfeld Productions on Vimeo.
Emily Calandrelli, a 27-year-old astronautics expert, has been named host of "Xploration Outer Space," a new syndicated series set to air on FOX-owned stations beginning in September. Its goal is to show off the coolest aspects of space and science to high school aged teens. As the show's host, Emily will take viewers on a fascinating journey to the outer reaches of the universe. Segment themes include why we explore Mars, robots in space, training to be an astronaut, extraterrestrial life on other planets and the future of private space travel.
September 2, 2014
Living the Life on 'Mars' (Gallery)
Since traveling to Mars isn't yet possible, figuring out how to conduct routine, and specialized, activities on the Red Planet requires mock missions on Earth. The Mars Society's Mars Desert Research Station (MDRS) is one of the leading facilities hosting researchers, scientists and engineers as they test hypotheses, conduct simulated field work, and gain experience living and working in the physical and social confines of a Mars analog.
August 7, 2014
17th Annual International Mars Society Convention
Today marks the kick-off of the 17th Annual International Mars Society Convention in the Houston, Texas area, running from August 7-10. You can follow the 4-day conference by watching the major plenary talks online.
http://www.marssociety.org/a/marssociety.org/www/conventions/2014/program-schedule
http://new.livestream.com/accounts/4950775/events/3217776
Watch the 17th Annual Mars Society Convention Live
The Mars Society will be convening the 17th Annual International Mars Society Convention in the Houston area from August 7-10. For those unable to attend the four-day conference, please consider watching the convention plenary talks live via the Internet on Livestream video broadcast.
July 11, 2014
Denver Woman A Finalist To Start A Colony On Mars
CBS Denver
They're calling it the next giant leap for mankind — putting people on the surface of Mars. It may seem like science fiction, but for a Netherlands nonprofit, it's fact. Mars One is the project that plans to establish a permanent human settlement on Mars with crews of four departing every two years starting in 2025. But buyer beware, it's a one-way ticket. In Denver, just shy of her 24th birthday, Elena Finley may be one of those first Mars settlers. "Definitely the fear is there, but it's definitely still a risk that I'm willing to take," Finley said.
July 9, 2014
Boeing and NASA employees recently partnered with academia to conduct early experiments on technologies that could eventually support life on Mars. The group traveled to a corner in southeastern Utah, right outside of Hanksville, Utah, to test out early solutions to potential problems. "We're doing some very interesting research," said Alejandro Diaz, a Boeing senior engineer in Advanced Space Exploration, and the commander of the crew at the Mars Desert Research Station. "Not granted, we can't simulate the gravity or atmosphere on Mars, but as far as a procedures stand point we do simulate what it might be like to live on Mars."
June 29, 2014
June 30th Deadline -- 2014 Mars Society Convention Abstract Submission & Early Registration
The Mars Society will be convening the 17th Annual International Mars Society Convention in League City, Texas (outside Houston near NASA's Johnson Space Center) on August 7-10, 2014. The four-day event will bring together key experts, scientists, government policymakers and aerospace executives to discuss the latest news on Mars exploration and planning for a humans-to-Mars mission in the coming decade. Monday, June 30th at 5:00 pm MDT marks the official deadline for two important points of this year's Mars Society Convention: 1) Submitting an abstract for consideration on matters associated with the exploration and settlement of the Red Planet, and 2) Signing up for early registration for the convention, which provides a discounted rate for purchasing tickets for the Houston-based conference.
June 26, 2014
Zubrin Challenges Chang Diaz to Debate at Mars Society Convention in Houston
Mars Society President Dr. Robert Zubrin has challenged Ad Astra President & CEO Dr. Franklin Chang Diaz to a debate at the 17th Annual International Mars Society Convention, which will be held in Ad Astra's hometown of Houston, Texas August 7-10, 2014. The proposed debate proposition is: Resolved "Electric Propulsion in an Enabling Technology for Human Mars Exploration," with Dr. Chang Diaz representing the affirmative side and Dr. Zubrin the negative side. Commenting on the challenge, Dr. Zubrin said, "This debate is critically necessary. Dr. Chang Diaz has been actively propagandizing an argument combining three claims. First, that cosmic radiation hazards dictate that current day propulsion, which enables six month transits from Earth to Mars, is too slow to enablehuman mission to Mars. Second, that therefore much faster forms of interplanetary propulsion are necessary before we dare undertake human Mars exploration missions. Third, that his VASIMR propulsion system would uniquely enable such quick trips.
June 10, 2014
No wind chill on Mars
Science News
Even though daytime temperatures in the tropics of Mars can be about –20°C, a summer afternoon there might feel about the same as an average winter day in southern England or Minneapolis. That's because there's virtually no wind chill on the Red Planet, according to a new study—the first to give an accurate sense of what it might feel like to spend a day walking about on our celestial neighbor. "I hadn't really thought about this before, but I'm not surprised," says Maurice Bluestein, a biomedical engineer and wind chill expert recently retired from Indiana University–Purdue University Indianapolis. The new findings, he says, "will be useful, as people planning to colonize Mars need to know what they're getting themselves into."
May 15, 2014
Virtual astronaut to share experience of life on Mars
Stuff
Being stuck in a two-storey, 8-metre metal cylinder with five strangers for two weeks would be terrifying for many people - but for Haritina Mogosanu it was a dream come true. In fact, the Romanian-born Wellingtonian couldn't wait to get back to the Mars Desert Research Station in Utah, returning a year later. She will speak on her experiences tonight at the Carter Observatory. The hab was built in the US by the international Mars Society to simulate what a long-term astronaut crew sent to the Red Planet might undergo. Volunteers at the station provide invaluable feedback to those developing technologies like spacesuits and dehydrated food.
May 8, 2014
EVA Hand Signals
In the past NASA has asked its spacewalking crews to come up with a set of hand signals for communication in the event of audio loss. And for a long time this worked out very well. However after a water filled spacewalk on the Space Station last July, NASA determined that it would be better to have an official set. Before I left for Mars/Utah a friend of mine who trains astronauts asked that we come up with our own set of hand signals for comparison. Without having us look at the official NASA signals, they wanted to get an outside perspective on the issue and potentially incorporate our signals with theirs. And while our signals would be devised primarily for surface use, there is still enough overlap for zero g spacewalks that most of them will remain relevant (some will need modification though).
April 4, 2014
This Cornell Student Built A Rover To Help Colonize Mars
Business Insider
Crowther is Team Leader of the Cornell Mars Rover club, an interdisciplinary team of 40 engineering, science, and business undergraduates that designs and builds a mock rover, much like NASA's Spirit or Opportunity rovers that roam Mars. Recently named to BI's list of most impressive students at Cornell, Crowther takes innovation to a new frontier. Rather than focusing on its individual sub-systems, Crowther is responsible for conceptualizing the rover's "big picture" design and investigating new methods of manufacturing, such as 3D printing. Last year, she co-founded the Rapid Prototyping Lab, Cornell's first open space for 3D printing and laser-cutting, which proved to be invaluable in the research and testing phases of building the rover.
April 2, 2014
Exploring Mars in Utah
National Geographic
Join five scientists on a "mission to Mars" in Utah. Photojournalist Jim Urquhart embedded with Crew 138 of the Mars Society's Mars Desert Research Station for two weeks in March. The crew describes what it's like, in their own words.
---