MarsNews.com
::
NewsWire
:: Planetology
December 8, 2014
Looking to Mars to Help Understand Changing Climates
The New York Times
We haven't found life on Mars, but decades of robotic exploration have indeed strengthened astronomers' convictions that rivers and perhaps even oceans once flowed on the red planet. "I think the short story is the atmosphere went away and the oceans froze but are still there, locked up in subsurface ice," said Chris McKay, an astrobiologist and Mars expert at NASA's Ames Research Center. In September a new spacecraft known as MAVEN, the Mars Atmosphere and Volatile Evolution mission, swung into orbit around the planet. Its job is to get a longer answer to one part of the mysterious Martian climate change, namely where the planet's atmosphere went.
November 17, 2014
Lockheed Martin Begins Final Assembly of NASA InSight Lander
Business
Lockheed Martin has started the assembly, test and launch operations (ATLO) phase for NASA's InSight Mars lander spacecraft. The InSight mission will record the first-ever measurements of the interior of the red planet, giving scientists unprecedented detail into the evolution of Mars and other terrestrial planets. InSight is scheduled to launch in March 2016. "The InSight mission is a mix of tried-and-true and new-and-exciting. The spacecraft has a lot of heritage from Phoenix and even back to the Viking landers, but the science has never been done before at Mars," said Stu Spath, InSight program manager at Lockheed Martin Space Systems. "Physically, InSight looks very much like the Phoenix lander we built, but most of the electronic components are similar to what is currently flying on the MAVEN spacecraft."
November 7, 2014
Mind-blowing Meteor Shower on Mars During Comet Flyby, Say NASA Scientists
Universe Today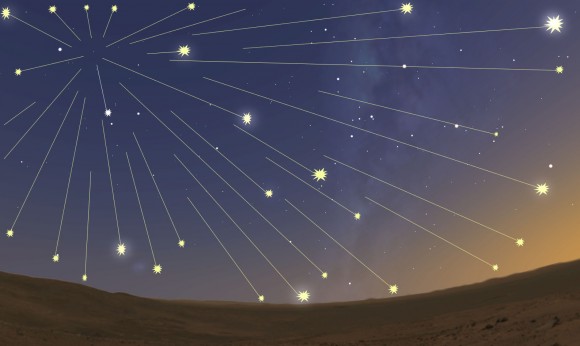 "Thousands of meteors per hour would have been visible — truly astounding to the human eye." That's Nick Schneider's description of what you and I would have seen standing on Mars during Comet Siding Spring's close flyby last month. "It would have been really mind-blowing," he added. Schneider is instrument lead for MAVEN's Imaging Ultraviolet Spectrograph (IUVS). He and a group of scientists who work as lead investigators for instruments on the MAVEN and Mars Reconnaissance Orbiter (MRO) spacecraft shared the latest results from the comet flyby during a media teleconference earlier today. There were many surprises. Would we expect anything less from a comet?
October 19, 2014
Comet Siding Spring whizzes past Mars
Yahoo!
A comet the size of a small mountain whizzed past Mars on Sunday, dazzling space enthusiasts with the once-in-a-million-years encounter. The comet, known as Siding Spring (C/2013 A1), made its closest encounter with Mars on Sunday at 2:27 pm (1827 GMT), racing past the Red Planet at a breakneck 126,000 miles (203,000 kilometers) per hour. At its closest, Siding Spring was 87,000 miles (139,500 kilometers) from Mars -- less than half the distance between Earth and our moon.
October 14, 2014
Hydrogen cloud blows off Mars
Nature
The first images from NASA's Mars Atmosphere and Volatile Evolution (MAVEN) spacecraft show a planet in the process of losing parts of itself. Streams of hydrogen atoms drift away from the red planet, into the depths of space. The pictures are the first clear look at how crucial elements erode away from the Martian atmosphere, says Bruce Jakosky, a planetary scientist at the University of Colorado Boulder and the mission's principal investigator. MAVEN's goal is to measure how the solar wind and other factors nibble away at Mars's atmosphere, so that scientists can better extrapolate how the once-thick atmosphere has thinned over billions of years. That process transformed Mars from a relatively warm, wet planet into a mostly dry, mostly frozen wasteland.
October 6, 2014
NASA Holds Briefing to Discuss Comet Flyby of Mars Observations
NASA will host a briefing at 11 a.m. PDT (2 p.m. EDT) Thursday, Oct. 9, to outline the space and Earth-based assets that will have extraordinary opportunities to image and study a comet from relatively close range to Mars on Sunday, Oct. 19. The briefing will be held at NASA Headquarters' and broadcast live on NASA Television and the agency's website. Comet C/2013 A1 Siding Spring will miss Mars by only about 88,000 miles (139,500 kilometers). That is less than half the distance between Earth and its moon and less than one-tenth the distance of any known comet flyby of Earth. The comet's nucleus will come closest to Mars at about 11:27 a.m. PDT (2:27 p.m. EDT), hurtling at about 126,000 mph (56 kilometers per second), relative to Mars.
October 3, 2014
Undergrad helps develop method to detect water on Mars
Washington State University
A Washington State University undergraduate has helped develop a new method for detecting water on Mars. Her findings appear in Nature Communications, one of the most influential general science journals. Kellie Wall, 21, of Port Orchard, Wash., looked for evidence that water influenced crystal formation in basalt, the dark volcanic rock that covers most of eastern Washington and Oregon. She then compared this with volcanic rock observations made by the rover Curiosity on Mars' Gale Crater. "This is really cool because it could potentially be useful for not only the study of rocks on Earth but on Mars and other planets," said Wall.
August 12, 2014
Colliding Atmospheres: Mars vs Comet Siding Spring
On October 19, 2014, Comet Siding Spring will pass by Mars only 132,000 km away--which would be like a comet passing about 1/3 of the distance between Earth and the Moon. The nucleus of the comet won't hit Mars, but there could be a different kind of collision. "We hope to witness two atmospheres colliding," explains David Brain of the University of Colorado's Laboratory for Atmospheric and Space Physics (LASP). "This is a once in a lifetime event!" Everyone knows that planets have atmospheres. Lesser known is that comets do, too. The atmosphere of a comet, called its "coma," is made of gas and dust that spew out of the sun-warmed nucleus. The atmosphere of a typical comet is wider than Jupiter. "It is possible," says Brain, "that the atmosphere of the comet will interact with the atmosphere of Mars. This could lead to some remarkable effects—including Martian auroras."
July 17, 2014
Glorious new Mars map is the most detailed yet
CNET
he US Geological Survey isn't limited to just mapping the US, or even Earth, for that matter. The agency has ventured off-planet with a gorgeously detailed new geologic map of Mars. The map draws on all the data our space explorations have returned, resulting in the most detailed geologic map of the Red Planet ever created. "This global geologic map of Mars, which records the distribution of geologic units and landforms on the planet's surface through time, is based on unprecedented variety, quality, and quantity of remotely sensed data acquired since the Viking Orbiters," reads the map's description.
June 10, 2014
No wind chill on Mars
Science News
Even though daytime temperatures in the tropics of Mars can be about –20°C, a summer afternoon there might feel about the same as an average winter day in southern England or Minneapolis. That's because there's virtually no wind chill on the Red Planet, according to a new study—the first to give an accurate sense of what it might feel like to spend a day walking about on our celestial neighbor. "I hadn't really thought about this before, but I'm not surprised," says Maurice Bluestein, a biomedical engineer and wind chill expert recently retired from Indiana University–Purdue University Indianapolis. The new findings, he says, "will be useful, as people planning to colonize Mars need to know what they're getting themselves into."
February 12, 2014
Study: Water could be flowing on Mars now
The presence of water on Mars is often talked about in the past tense -- as in, billions of years in the past. But researchers have found clues that water could be flowing in the present, at least during warm seasons. Researchers at Georgia Institute of Technology are looking at dark features on Martian slopes that are finger-shaped. They appear and disappear seasonally. These flows represent the best suggestion we know of that Mars has water right now, scientists say. The study is published in the journal Geophysical Research Letters. In 2011, Lujendra Ojha and his colleagues announced the evidence for possible saltwater flows on Mars. They published a study in the journal Science based on data from the HiRISE camera aboard NASA's Mars Reconnaissance Orbiter.
December 10, 2013
Curiosity Finds A Former Lake On Mars
Popular Science
Once upon a time, in the lowest part of Gale Crater on Mars, there was a lake about the length and width of one of the Finger Lakes in upstate New York. It was fed by rivers that ran into it. If you stood on its shores, you might have seen snow or ice capping the mountains in the distance. After its first 100 Mars-days, or sols, on the Red Planet, NASA's Curiosity rover trundled down into this now-dry lakebed. The rover took images of rocks along the way and drilled two holes to take samples. It's from these samples scientists determined this lake existed and that its waters weren't too alien, after all, compared to water on Earth. The water was of relatively neutral pH and low salinity. "I would be pretty confident it would be fresher than seawater," says Scott McLennan, a geoscientist with Stony Brook University in New York who worked on this and other studies based on Curiosity data. This is water that microbes could have lived in, although Curiosity found no direct evidence of life on Mars, nor is it designed to do so, McLennan tells Popular Science.
December 9, 2013
The Mists of Mars
The Planetary Society
Late last month, visitors to Grand Canyon National Park in Arizona witnessed a rare and spectacular sight. A temperature inversion (where a layer of cold air is trapped beneath warm air) led to a canyon filled to the brim with clouds. On the very same day, a robotic spacecraft at the planet Mars captured a similar scene. This one was a much more common event, but one that still makes for incredible imagery. Valles Marineris is a network of canyons that in many ways looks similar to the Grand Canyon--except that at more than 4,000 kilometers in length, if it were on Earth it would stretch across most of the United States. This canyon, too, sometimes fills with clouds, made of tiny particles of water ice, though it's not caused by an inversion. Despite the Red Planet's well-earned reputation as a dry desert, there are hints of water on its surface and in its atmosphere. The Mars Color Imager (MARCI) on board the Mars Reconnaissance Orbiter makes daily observations of the entire planet. On November 29 and 30, MARCI returned pictures of wispy clouds clinging to the summits of Olympus Mons and the other towering volcanoes. It also showed Valles Marineris, a long horizontal scar probably formed in part by the tectonic effects of all those volcanoes. As happens seasonally, the canyon was clearly filled with clouds.
November 14, 2013
LeVar Burton Video Is the Best Explanation of a Mars Mission Yet
Mashable
November 7, 2013
MAVEN's mysteries: An inside look at NASA's next Mars mission
NBC News
NASA's MAVEN orbiter is designed to follow up on a huge question surrounding past findings about Mars: If the Red Planet was once far more hospitable to life, what happened? "What I'm most looking for is clarity," the University of Colorado's Dave Brain, a co-investigator for the $670 million mission, told NBC News. "We're very certain that Mars has undergone some big change over the last several billion years." Part of that big change had to do with Mars' atmosphere: Past studies have suggested that the carbon dioxide atmosphere was once thicker and more Earthlike, which would have kept the planet warmer and wetter. Now the atmospheric density is just 1 percent of Earth's, offering little protection from the sun's deadly ultraviolet blast. Where did the air go? "There are only two answers to that question: You can go down, or you can go up," Brain said.
---